Gooch's A-1 Bar & Grill Rebuild Benefit
Back in the summer of 2019 the whole town of Boulder Junction heard of the bad news about Gooch's A-1 Bar & Grill. In August 2019 the well-known restaurant burned down after an unfortunate accident. The owners of Shaw Building & Design are not only very close to the owners but also have been going to Gooch's for many years. The devastation of the community and the owners gave Shaw a great idea.
Why not rebuild Gooch's?
Although Shaw never general contracted a commercial building before they knew it was something they had to do.
Construction of Gooch's has begun. Although the business was insured, costs to keep the project going along with lawyer fees are more than expected. The Boulder Junction Chamber and owners have come up with an event to help raise money to keep the rebuild going.
"Get'cha Gooch On Benefit"
This will take place on Saturday, February 22 at the Boulder Junction Community Center. Doors along with a cash bar will open 5pm at which time ticket sales for a 50/50 raffle, bucket raffles and card board raffle will begin. Dinner will be served at 6:30pm and live music with Refuse to Rust will be from 7:30pm to 10pm. Entrance fee is $10.00 per person and includes dinner.
We encourage anyone who can attend to please do so! If you cannot there are other ways to donate.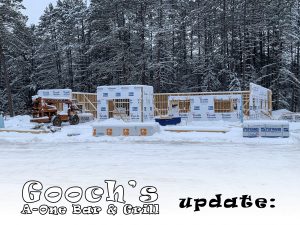 Online donations can be made at www.gofundme.com/f/gooch039s-a1-benefit or mail a check payable to: Gooch's A-1 Benefit, PO Box 272, Boulder Junction, WI 54512. Donations for the raffles are also being accepted. They can be dropped off to the Boulder Junction Chamber office or Wittig's Point Resort and Tavern.
For more information, please contact that Boulder Junction Chamber at 715-385-2400 or Tom Whitman at 715-892-8969.