Quick Ship Ash Lindal Cedar Home
The 3,252 square foot Lindal Cedar Home is finally completed in Oregon, Wisconsin. This home was based off the Lindal design Ash 2660. The new homeowners changed the original design and removed the lofted bedroom that would have been above the kitchen. By doing so, it opened up the kitchen making it more of a grand space.  They also decided on a standing seam metal roof that comes with many benefits. A few include extreme energy efficiency, resistance to fire, mildew, insects, rot, and its long-lasting durability.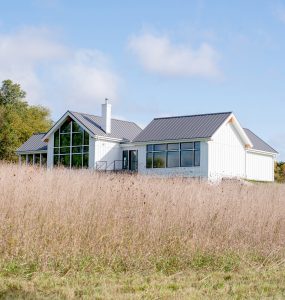 To complement the roof the owners decided to go with LP Smartside siding in board and batton style painted in a stunning bright white. The benefits of using LP siding include reduction of cost compared to traditional wood, the look of natural wood, and it is more resistant to insects, mold, and mildew than wood.
The window type that they went with are Windsor Aluminum clad cedar windows. Aluminum windows have long-lasting color along with high energy efficiency. An additional benefit of these windows is that they are low maintenance compared to alternative windows.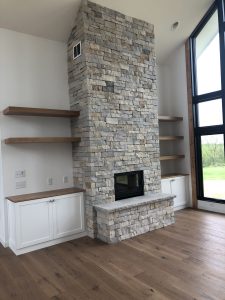 The interior style of the home is modern, with their black cable railing that matches the exterior, full tile back splash in the kitchen, floor to ceiling windows, and painted custom Amish made cabinets.   Another modern style that Lindal added to this home was the use of low profile base and casing, which allows the windows and all glass doors to take all of the attention.
One of the clients favorite rooms is the screen porch.  This area is also made with LP board and batton, to match the exterior of the home.  The homeowners did not want to obstruct their gorgeous view, so they opted for cable railing out here as well.
The other room that stands out is the master bathroom.  This bathroom has a custom tile shower with a glass wall and door.  On the other side of the bathroom is another piece of custom Amish cabinetry, complimented by a handmade tile backsplash.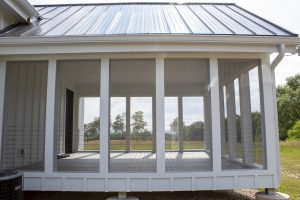 We are very proud to be an independent dealer for Lindal Cedar Homes, and this home just shows the pure beauty and architecture in their designs.  We are so happy and proud to have built these clients their modern dream home that they are going to spend the rest of their lives in.