SHAW BUILDING & DESIGN
Company History
BUILDING CUSTOM HOMES SINCE 1986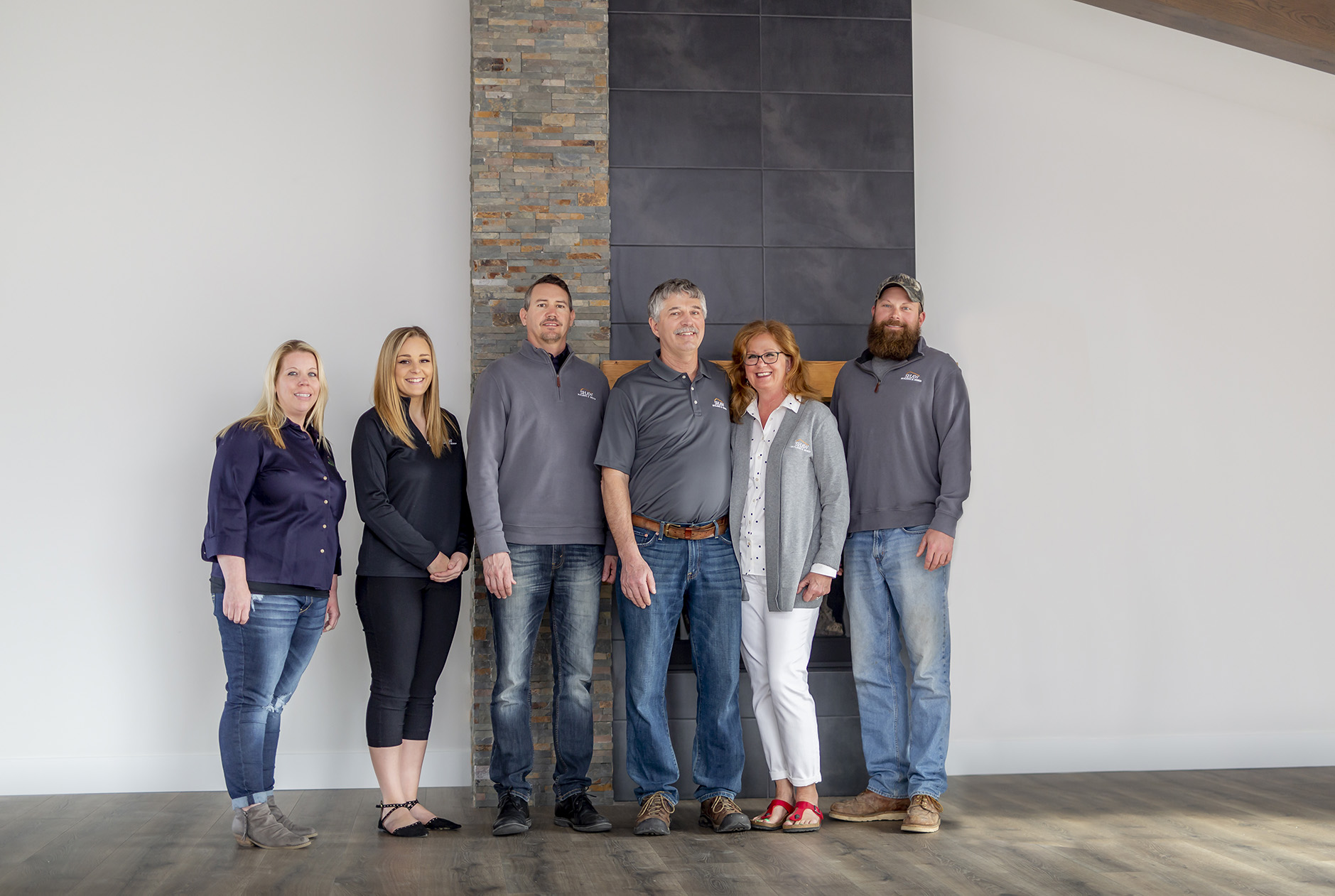 Greg Shaw has been in business for himself since 1986. In 1994 Greg and his wife, Dawn, founded Shaw Building & Design, Inc., a design-build company that specializes in custom-built homes, green building and custom remodeling projects.
We offer clients a range of services from design through construction. Whether you desire a conventionally built home, a post & beam style home, timber frame home, or net zero home, Shaw Building & Design, Inc. can make your dream come true.
Our number one goal is to make the building of your project a pleasant and memorable experience for you. Greg Shaw views his role as a guide and an educator for his customers. This alleviates much of the fear and stress associated with building or remodeling, and creates a team approach.
Our team of experts expands well beyond our in-house associates. We carefully select some of the best subcontractors in the industry to partner on our client's homes. Their quality craftsmanship, coupled with our design and construction knowledge, will maximize the value of your beautiful custom dream home.
SHAW BUILDING & DESIGN
Our Team
Greg Shaw
Co-Owner/Founder
greg@shawbuilders.com
Greg worked in the Home Building industry for about 8 years before deciding to go solo and founded Shaw Builders Inc in 1986. Shaw Builders was Greg and his wife Dawn's first business, purely a residential and commercial carpentry labor company, that is now managed by his son Matt Shaw. After several years Greg and Dawn founded their custom home design company, Shaw Building and Design.
Greg oversees the office, and all residential construction projects. He participates in all meetings with our custom home clients, many home site visits, trade shows, and seminars. He has lived in the Stoughton Community with Dawn for 40 years, and raised three children & their dogs there.
Dawn Shaw
Co-owner/Founder
dawn@shawbuilders.com
After several years of overseeing marketing, helping clients with home selections, and other duties around the office, Dawn is taking a step back to retire and focus on her family. She has had an eye for design and has been an asset to home clients in choosing their custom fixtures and amenities for their home.
Dawn and Greg have been involved in their community for many years and have worked well together to give their clients a wonderful custom home building experience.
She is excited to leave her duties in the hands of her new employees to focus on taking care of her grandkids!
Please contact Jordan at jordan@shawbuilders.com for advertising, Kelly at kelly@shawbuilders.com for Human Resources, and Rachel at rachel@shawbuilders.com for project selection.
Matt Shaw
Estimator & Project Facilitator
matt@shawbuilders.com
Matt has been working for Shaw Builders since 2001. He is in charge of project estimation and the carpentry labor force for Shaw Builders Inc. which is the labor force behind all of Shaw Building & Design's custom home builds, along with the residential and commercial properties they are hired out for.
Matt is hands on with day to day operations between sub contractors and jobsite management throughout the state. He lives in Stoughton with his wife Abbey and their three dogs. In his free time, he likes to go fishing and golf.
Chris Neumann
Designer/Project Management
chris@shawbuilders.com
Chris is our custom home designer and has been with Shaw Building and Design since 1997. He has designed a wide variety of custom home builds including modern-contemporary, post & beam, timber frame, prairie-style, log, tilt-up concrete homes and many others.  He works with his clients to achieve aesthetic design through architecture, to create great spaces and efficient features.
He lives in Madison with his wife Agnieszka and their two sons.
"I enjoy meeting with people.  It's fun to see their excitement as they talk about their dreams and ideas.  Each client has very different desires and needs in their home.  I strive to give each home owner a unique design that they can call their very own."
Mike O'Connell
Project Superintendent
mike@shawbuilders.com
Mike has worked with Shaw Builders since 1992 and Shaw Building and Design since 2000. He is the project superintendent for both companies. He brings his years of carpentry knowledge to builds to assist building better homes, on schedule, defect free. His background is not only in new builds but remodeling, and works with homeowners and sub-contractors on day-to day coordination.
Mike lives in Cottage Grove, and like Matt enjoys musky fishing & golf.
"My favorite thing about the construction process is taking a lifeless 2D idea and creating a tangible and multidimensional home or commercial structure for our clients."
Kelly LaBansky
Accounting
kelly@shawbuilders.com
Kelly started working for Shaw Building & Design in the summer of 2016. With her background in Administration and Accounting, Kelly manages the bookkeeping and HR responsibilities for both Shaw Builders Inc. and Shaw Building & Design. She handles payroll & insurance for both companies and all invoicing associated with building your new home.
She enjoys traveling, planning parties, and spending time with her family. She lives in Stoughton with her husband and five children.
"I am very passionate about meeting the needs of each and every client that calls or walks into our office."
Rachel Hughes
Project Manager/ Interior Design
rachel@shawbuilders.com
Rachel started working for Shaw Building and Design in August 2020. Rachel comes from an Art and Design background with experience in the commercial flooring industry. She likes to paint and sew in her free time, and enjoys being outside all times of the year spending time with her 3 grown kids and dogs. She currently live in Janesville but is hoping to relocate to the Madison area in the future.
"I am excited and looking forward to working with customers on future projects."
Deanna Beadle
Designer/Project Manager
deanna@shawbuilders.com
Deanna started working for Shaw in September 2020.  She graduated with a degree in Architectural Drafting and Technology from Northcentral Technical College in Wausau, WI and is excited to start her career in the industry down here in the Madison area.
Outside of work she enjoys being outdoors and staying active, traveling, working out at the gym, or practicing gymnastics and volleyball.  She has also coached high school gymnastics for 6 years in her hometown of Wisconsin Rapids.
"I am excited to dive into overcoming challenges and solving problems to design wonderful homes to suit client's needs."
Brian Kurt
Project Manager/ Designer
brian@shawbuilders.com
Brian is our newest hire at Shaw Building and Design.  Brian has 27 years of knowledge in numerous types of buildings while working as a Drafter and Material Planner. Brian has a degree from Madison College in Architectural Technology.
He enjoys spending time with his family and friends. He tries to stay active by golfing, playing softball, hiking and generally just about any outdoor activity.
"I very much look forward to collaborating with the clients to help them make their dream home a reality."