Building a Net Zero Home
The term "Net Zero" applies to a building with zero net energy consumption and zero carbon emissions annually. Zero energy buildings are independent from the energy grid supply. Energy is produced on-site. Since buildings use 40% of the total energy in the U.S. and Europe, this design principle is gaining considerable interest as renewable energy as a means to cut greenhouse gas emissions.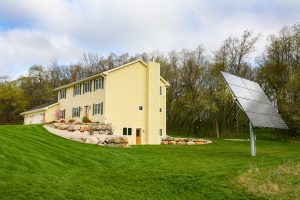 Advantages of Net Zero building:
Isolation from future energy price increases
Increased comfort from more uniform temperatures
Reduced cost of ownership due to improved energy efficiency
Reduced monthly cost of living
Additional costs are reduced for new construction versus retrofitting an existing home
Higher resale value as future owners demand more Net Zero homes than are available.
Subsidies may be available for homeowners building Net Zero homes
Challenges of Net Zero building:
Initial costs of construction can be higher
Only a few designers or builders have the skills or experience to build a Net Zero home (SBDI is experienced in Net Zero home building).
Most appraisers do not consider energy in assessing the value of a building. This can pose a challenge to recover higher initial costs on resale of the home.
Solar energy capture must have unobstructed access to the sun from the south. This can be challenging for some locations.
SBDI is proud to have been the general contractor for the WPPI Energy's GreenMax Home Project in Southern Wisconsin.