How to Build to Save Energy
How to Build to Save Energy
Did you know that the buildings we live and work in have a dramatic impact on our natural environment?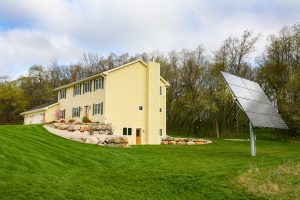 According to the U.S. Green Building Council (www.usgbc.com), buildings account for:
72% of electricity consumption
39% of energy use
38% of all carbon dioxide (CO2) emissions
40% of raw materials use
30% of waste output (136 million tons annually)
14% of potable water consumption
Choosing to build green has a responsible decision that has a significant impact on our world. When choosing to build green, be sure to choose a qualified and certified contractor. Shaw Building & Design, Inc. is a Certified Green Professional™ through the National Association of Home Builders.
The National Association of Home Builders' Certified Green Professional™ designation recognizes builders, remodelers and other industry professionals who incorporate green building principles into homes, without driving up the cost of construction. Classwork leading to the designation provides a solid background in green building methods, as well as the tools to reach consumers, from the organization leading the charge to provide market-driven green building solutions to the home building industry.
What are the benefits of green building?

Environmental benefits:
Enhance and protect ecosystems and biodiversity
Improve air and water quality
Reduce solid waste
Conserve natural resources
Economic benefits:
Reduce operating costs
Enhance asset value and profits
Improve employee productivity and satisfaction
Optimize life-cycle economic performance
Health and community benefits:
Improve air, thermal, and acoustic environments
Enhance occupant comfort and health
Minimize strain on local infrastructure
Contribute to overall quality of life