Modern Farmhouse Trends
Modern Farmhouse Trends 
The modern farmhouse trend has been increasingly popular. We finished a modern farmhouse in the winter of 2019 and it included interior farm doors, white cabinetry, chiseled edge counter tops, large kitchen island, wooden bedroom headboard, and etc.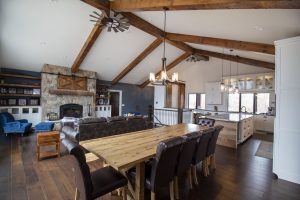 Our Project Manager and Marketing Director visited several showrooms to explore more hardware that is associated with this style. These are what they found!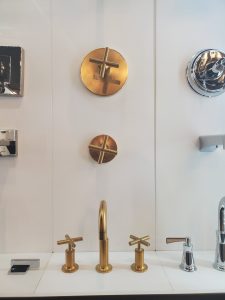 The use of gold hardware is a huge trend! The showrooms presented the gold hardware in both kitchens, bathrooms, and showers.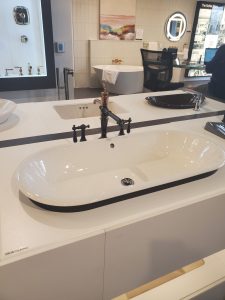 A large kitchen sink is a MUST in a modern day farmhouse. This one caught their eye because of how shallow and long the sink was.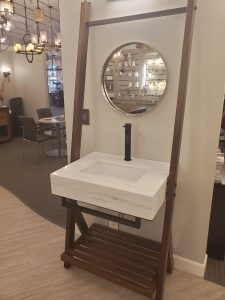 This bathroom sink was a very unique find! It replaced cabinets with a wooden shelf underneath. The round mirror added a modern touch as well.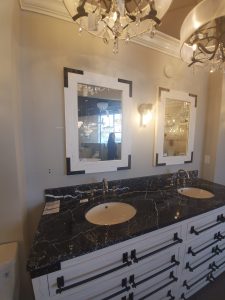 If you are going for more white and black theme to your modern farmhouse this bathroom vanity is one way to go! It includes two round sinks, black hardware, black counter tops, and white cabinetry.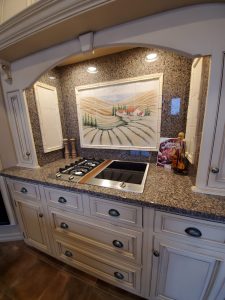 This kitchen had a painted tile picture as their back splash behind the stove. This gives an artistic country look to the kitchen. This leans towards more farmhouse than modern.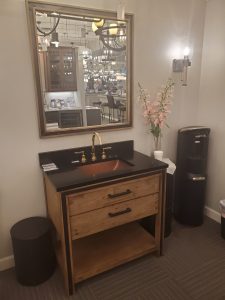 Not into the white and black trend? This bathroom vanity was discovered as another modern farmhouse bathroom option. It includes brown cabinetry, gold hardware, cooper sink, and black counter top.
The modern farmhouse trend doesn't seem to be going away any time soon. We are embracing this trend and cannot wait to build more homes in this style.